To ensure that your Kaizo account is set up to meet your company's needs and every feature is customized to your preference, we advise you to start your journey in Kaizo by visiting the Settings page.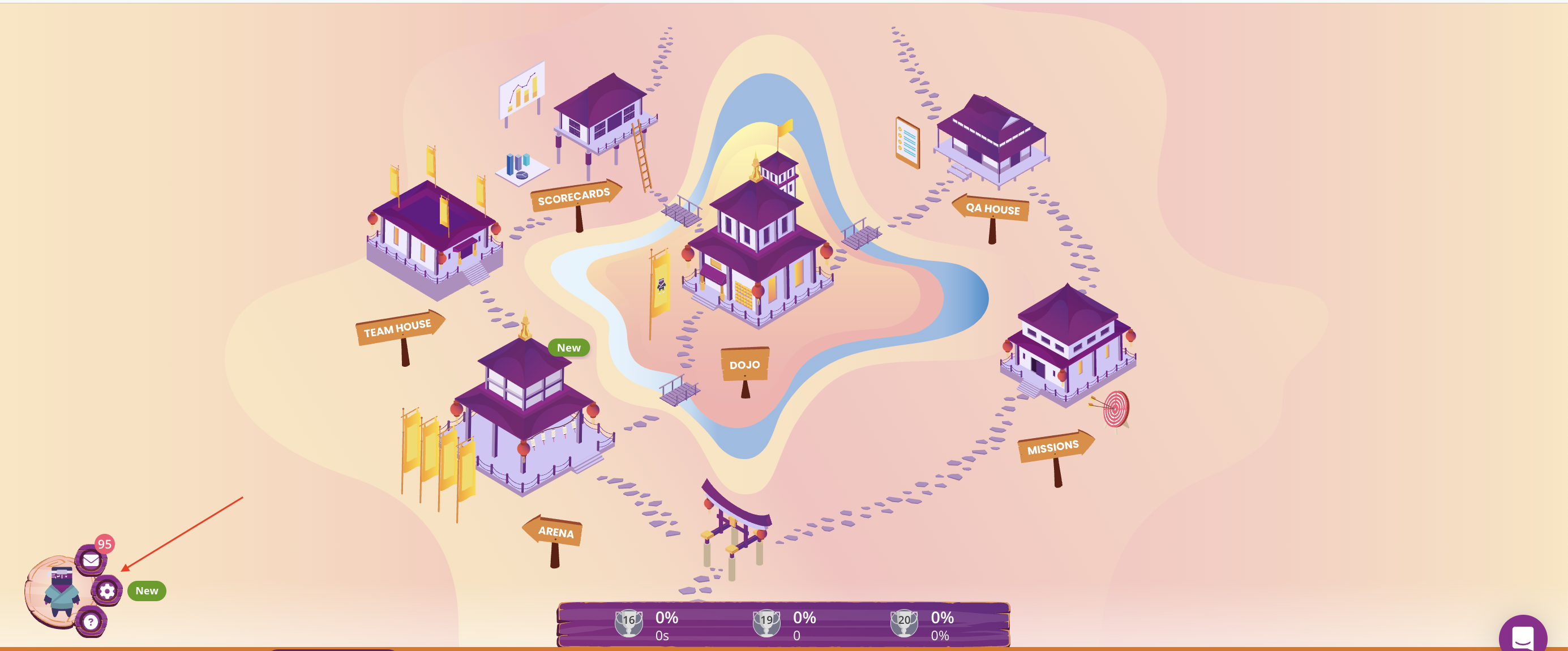 To begin, you'll need to organize your ticket settings. Kaizo allows users to customize what information is included in each ticket.
There are 2 parts to this:
Excluded tickets:

Allows managers to flag tickets they don't want on the Scorecard.

Ticket view:

This allows you to select the fields you want to be included in your tickets. Here you can also choose the order in which each field is displayed.
How do I set it up?
Select "Settings" and then open the "Tickets" tab.

To exclude tickets, type in an indicator for invalid tickets, eg: #spam. This will then flag any ticket with this indicator and remove it from your Scorecard.


Note: Tags are defined by Zendesk. The tickets that contain these tags will not be counted by Kaizo. Therefore, tagging ensures the results in your agent's Scorecard will not include tagged metrics.

To format your tickets

, select which fields you would like to see in the ticket from our categorized list.

To order your fields, drag the selected field from the 'Fields available' column and drop them into the column for Ticket View.

You can now arrange the fields in the order you would like them to appear on your tickets.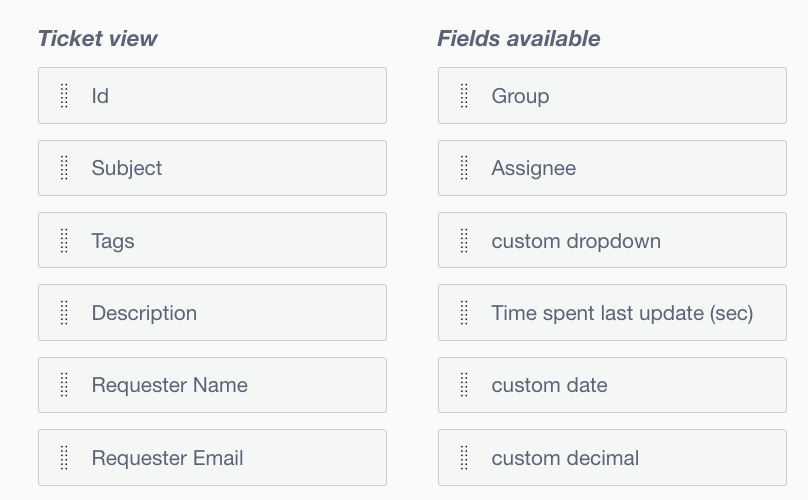 Note: These fields are defined in your Zendesk account, on the left side of your screen.
What happens after I customized my ticket view?
1. After you Excluded specific tickets containing defined tags, Kaizo stops including these tickets in:
It means that if your agent wrote an email in one of the excluded tickets, we will not capture it in their Public Reply metric.
This ticket will also not be offered for QA rating, even if the agent supported it during the week.
🚨Important! Make sure that you exclude only the tickets that are not supported by your agents. Otherwise, the work that they have done on these tickets will not be captured by Kaizo.
2. Every time you would like to check a specific ticket inside Kaizo, you will not only get the information about each Public Reply or Internal Note of the agent but will also be able to see the ticket details. These are inherited from Zendesk and we only show the fields that were earlier selected by you in Setting: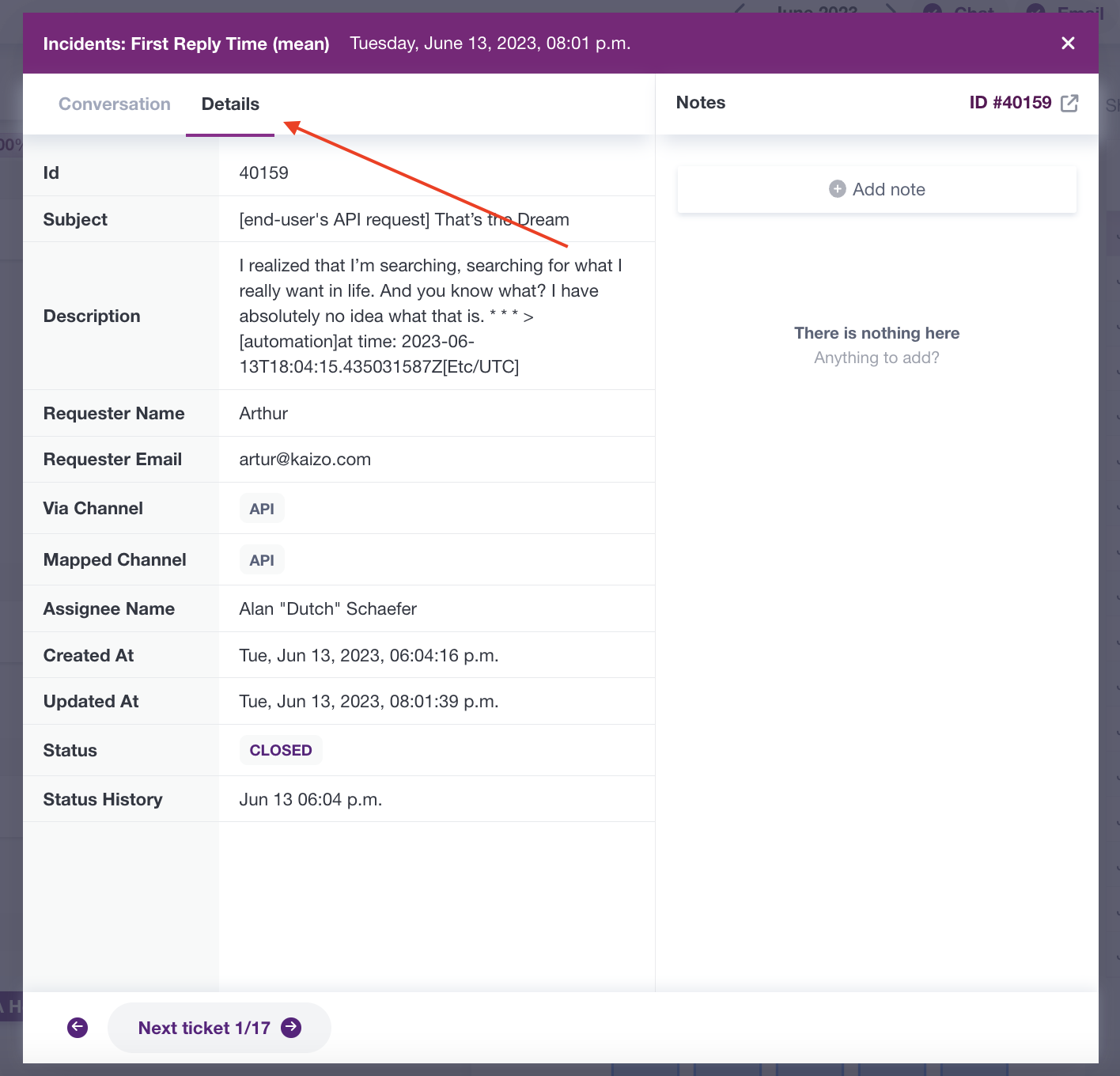 For more information on how to drill into the Metrics and see the tickets behind each result visit this Help Center article.
🚨 Important to define all of the fields that will help you with effective QA rating process. When rating tickets, you can always switch to the Details tab and check if the ticket documentation was done correctly by the agent. This will help you avoid having to open each ticket inside Zendesk to get this information.