Any CS role requires you to be transparent, have a goal, and understand what you're doing and why you're doing it. No task can be successfully completed if any of these three elements is missing.
Kaizo goals and Missions follow the same principle for your agents:
- They should see and know their goal 🎯
- They should understand what they can do to achieve it 🧗🏽‍♂️
- They should have access to their results and the data that made an impact 📈
The good news is that the Mission Center and Dojo will ensure your agent's Mission completion and success! How so? It's easy — we have all the things needed for successful Mission achievement. 🎉
Missions are based on the Metrics the agent sees in the Scorecard house
All the progress and the status of Missions are available in the Dojo and the Mission Center
TL and Agent can always drill into the Mission result and understand what tickets contributed to the Mission achievement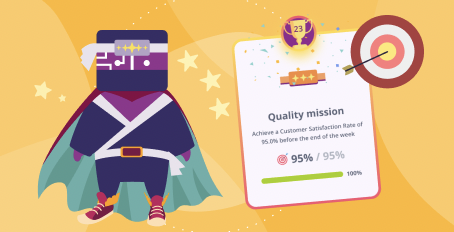 How do I open and understand the Incidents behind the Missions?
1. Team Lead or Agent can visit the Mission Center or Dojo, respectively, and click on the "Show Incidents" button for the Mission they are interested in:

2. You will see a list of tickets opening right away with the following information:
The timestamp of the agent's touchpoint (the time the ticket was submitted by the agent)
Ticket number
The value of the ticket that was counted for this Mission achievement

Note: Depending on the Metric that was set up as a Mission the value will differ:
If the Mission is the CSAT — the value will be positive or negative
If the Mission is anything related to Speed — the value will be set in seconds/minutes/hours
If the Mission is the Response Rate — the value will normally be 1
Now, what do you do to correctly interpret the Mission result?
There are several different ways for agents to learn from this information as well as for the Team Lead to point out some specific results to their agents:
Try filtering tickets by the value:

For the CSAT Metric — try bringing all the NRR tickets up
For the Speed Metrics — bring the one with the highest Response Time to the top

Click on the ticket number that you are interested into review and see it right inside the Mission Center/Dojo
Leave a ticket-related note for your agent and they will see it right away when visiting the Scorecard house again