The Team Scorecard will help you quickly get an overview of your team's performance and spot opportunities for improvement on a team level.
With Kaizo's Team Scorecard you will:
Save hours of your time and stop copying metrics to spreadsheets
Get real-time team overview and pinpoint issues within seconds
Nail data-driven forecasting and easily plan your team capacity

Manage multiple teams from a single control center
Need more information and metrics from a specific agent? Switch to the Agent Scorecard.
To switch to the Agent's Scorecard, click "Agent View" in the top right corner and select "Agent" from the drop-down menu.


How to access the Team Scorecard

The Team Scorecard is accessible through the Scorecard building in the village. If you have been granted access to the Team Scorecard, it will be the first screen you see when clicking the Scorecard building.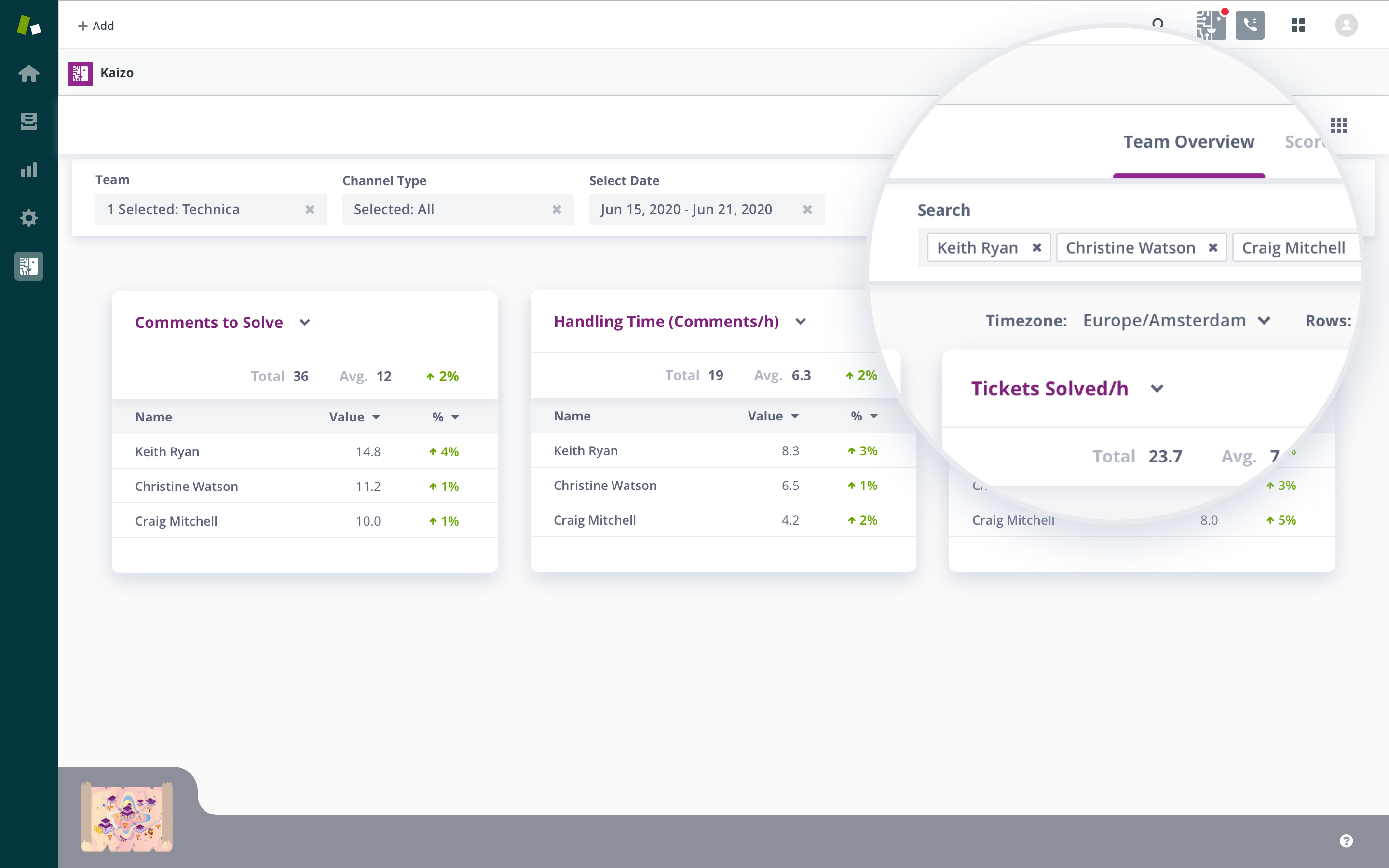 How to set up your Team Scorecard

When you first access the Team Scorecard, you will see 3 columns with a metric assigned to each of them. The columns are not static, you can customize each of them to display the metric you want to see.
The metrics and the filters you set up will be saved automatically for you. It doesn't mean those filters are saved for other team members though. Each person with access can customize their own metrics.
See how to customize your Team Scorecard below.

Select the metrics you would like to visualize
Click on the drop-down to view all metrics available. You can always switch metrics by doing it again and selecting another metric.

*pro tip: you can type in the metric field to quickly find the metric you need to find.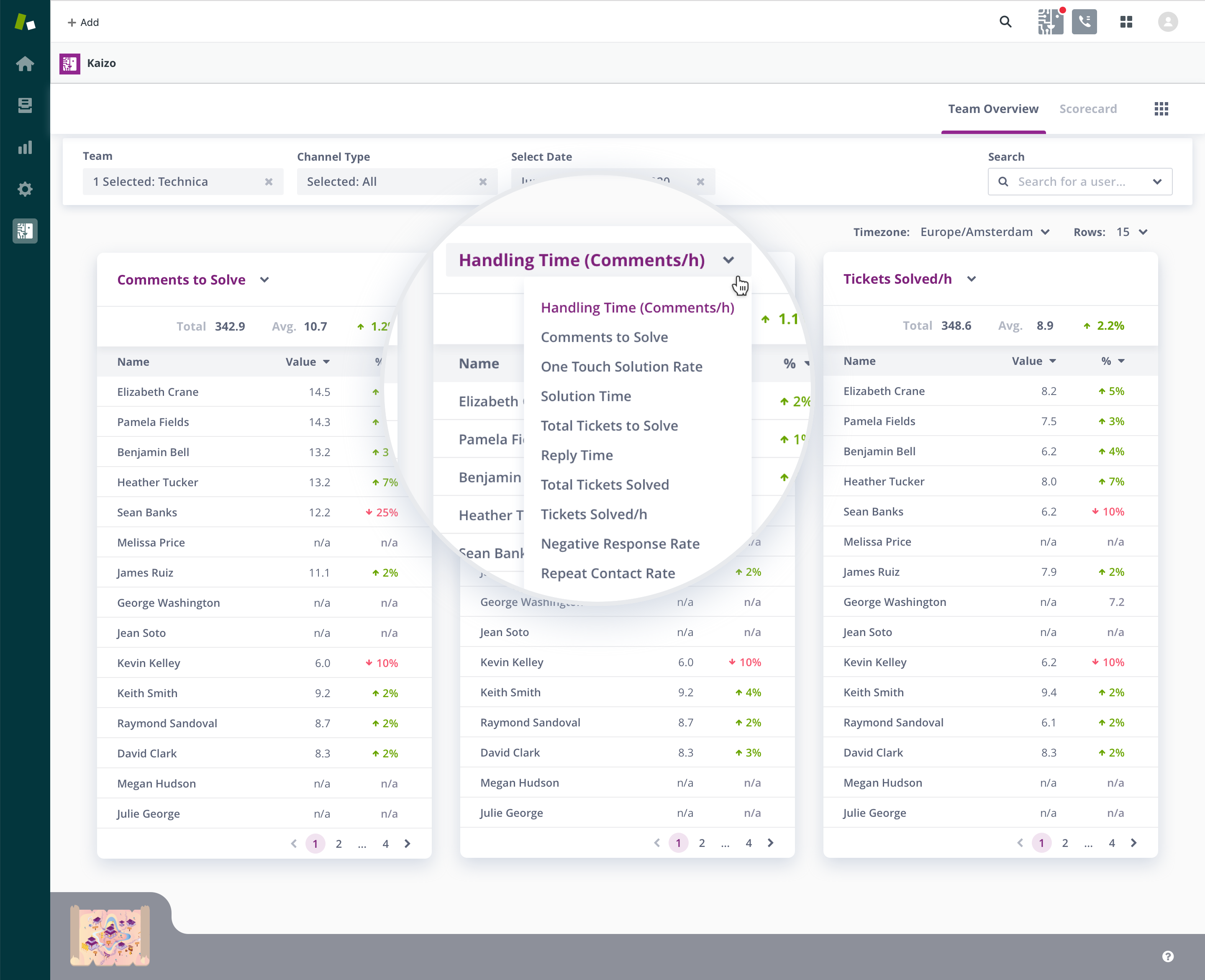 Adjust the date range
There are three date units available
1. Select a month
2. Select a week
3. Select a custom date (Day)

The timeframe you select will be applied to all the columns.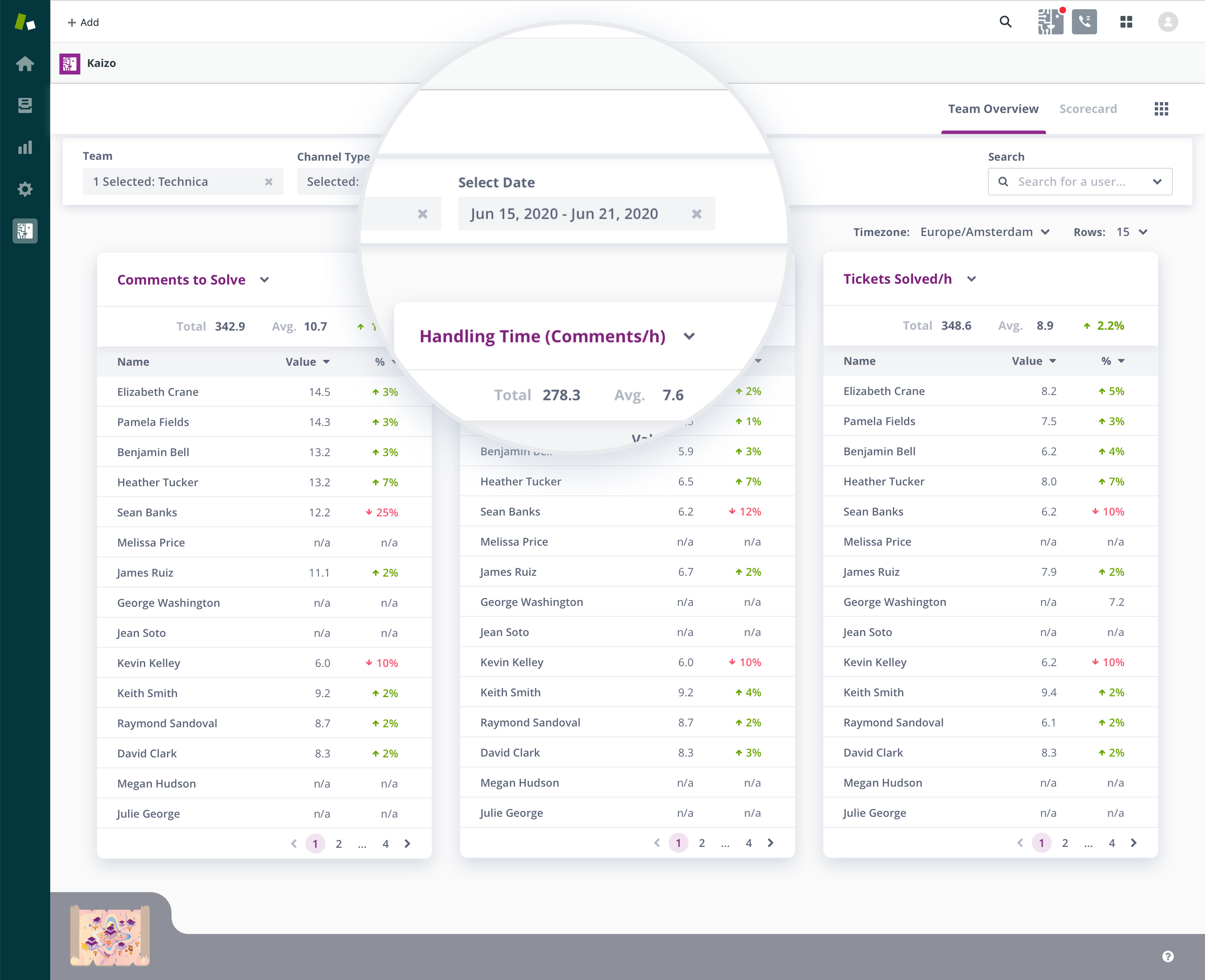 Filter according to Team or Channel Type
If you are responsible for a specific team, you can select the team you would like to track.
Same for channels, you can select a specific channel or combine a few together. The filters will automatically save, meaning the next time you access the Team Scorecard you will directly see the metrics you had previously selected.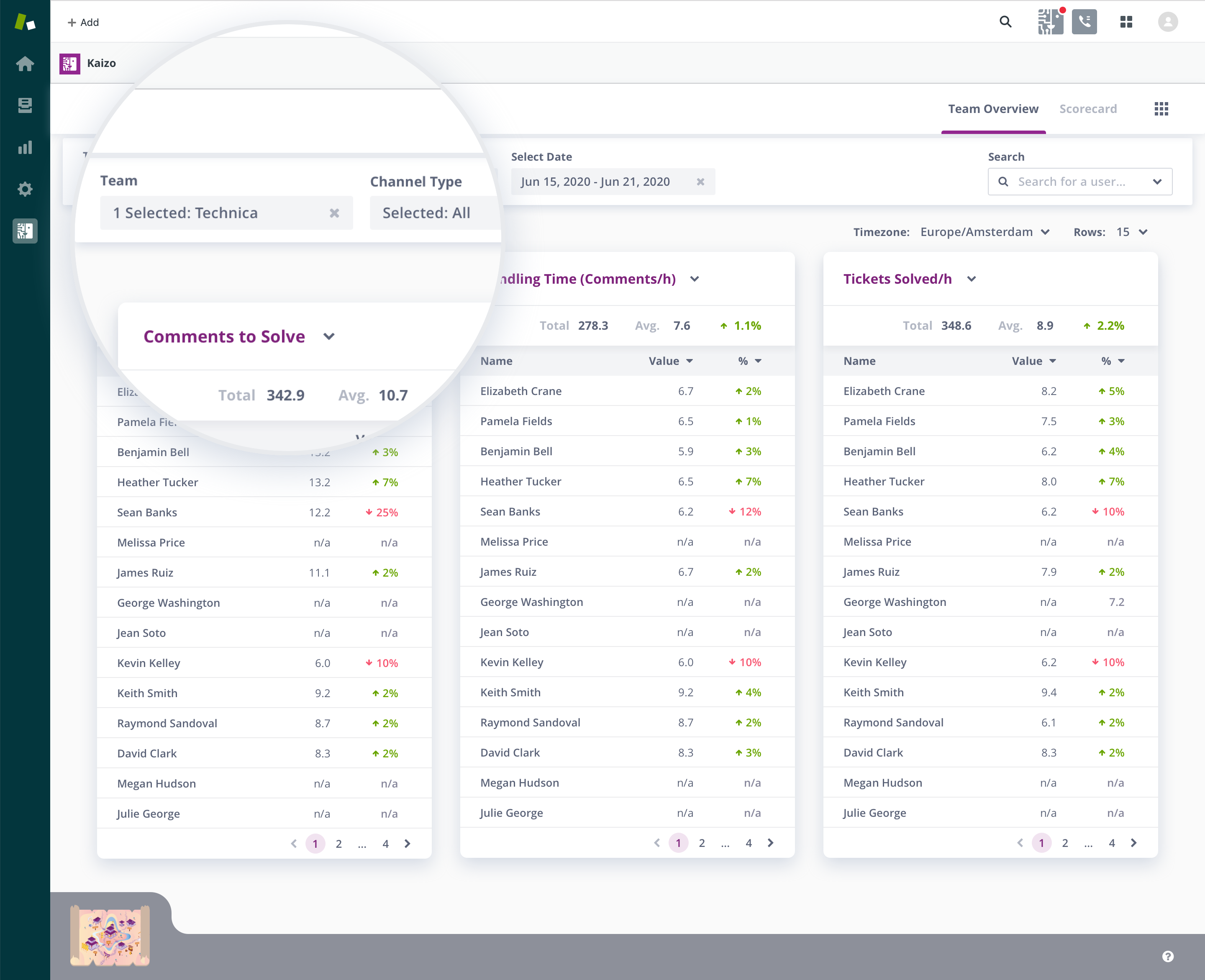 Check performance of specific agent or compare agents to each other
On the top right you have a search bar where you can type an Agent's name. If you select a specific Agent, you will see only their metrics. This comes particularly handy if you need to find out something like the average Reply Time of a specific Agent.

With the Team Scorecard, you can also easily compare agents to help you find your top performers and your bottom performers that may need a little more help. If you select multiple agents using the search bar, you will see their metrics combined.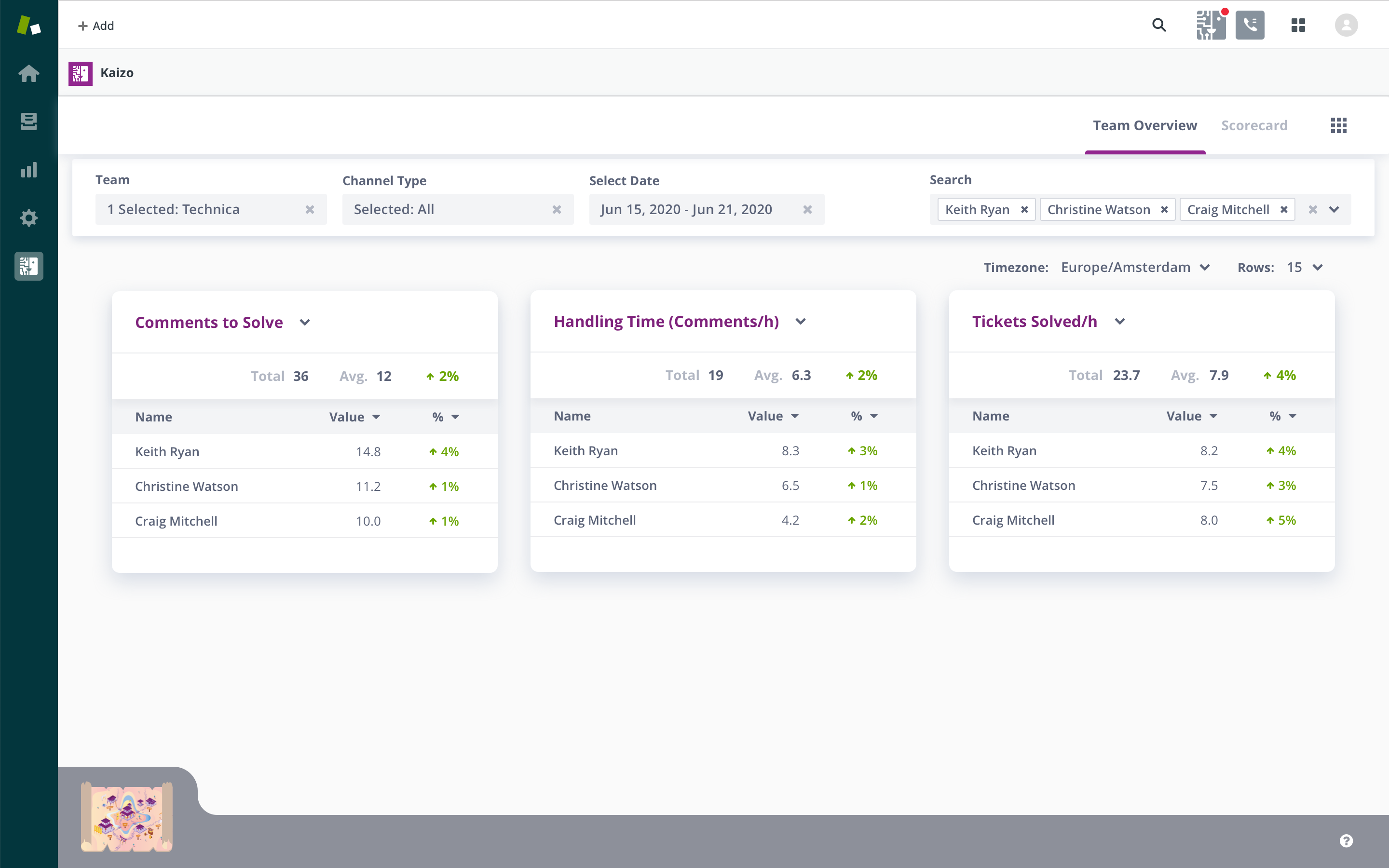 Trends per metric
For each metric you select, you will also see the trends per Agent and team.
The trend is always reflected according to the timeframe you selected.
For example, if you select week 36, the trend will be compared to week 35. If you selected the month of June, the trend would be compared to the month of May.
The trends enable you to easily see if a metric is stable, increasing or in decline.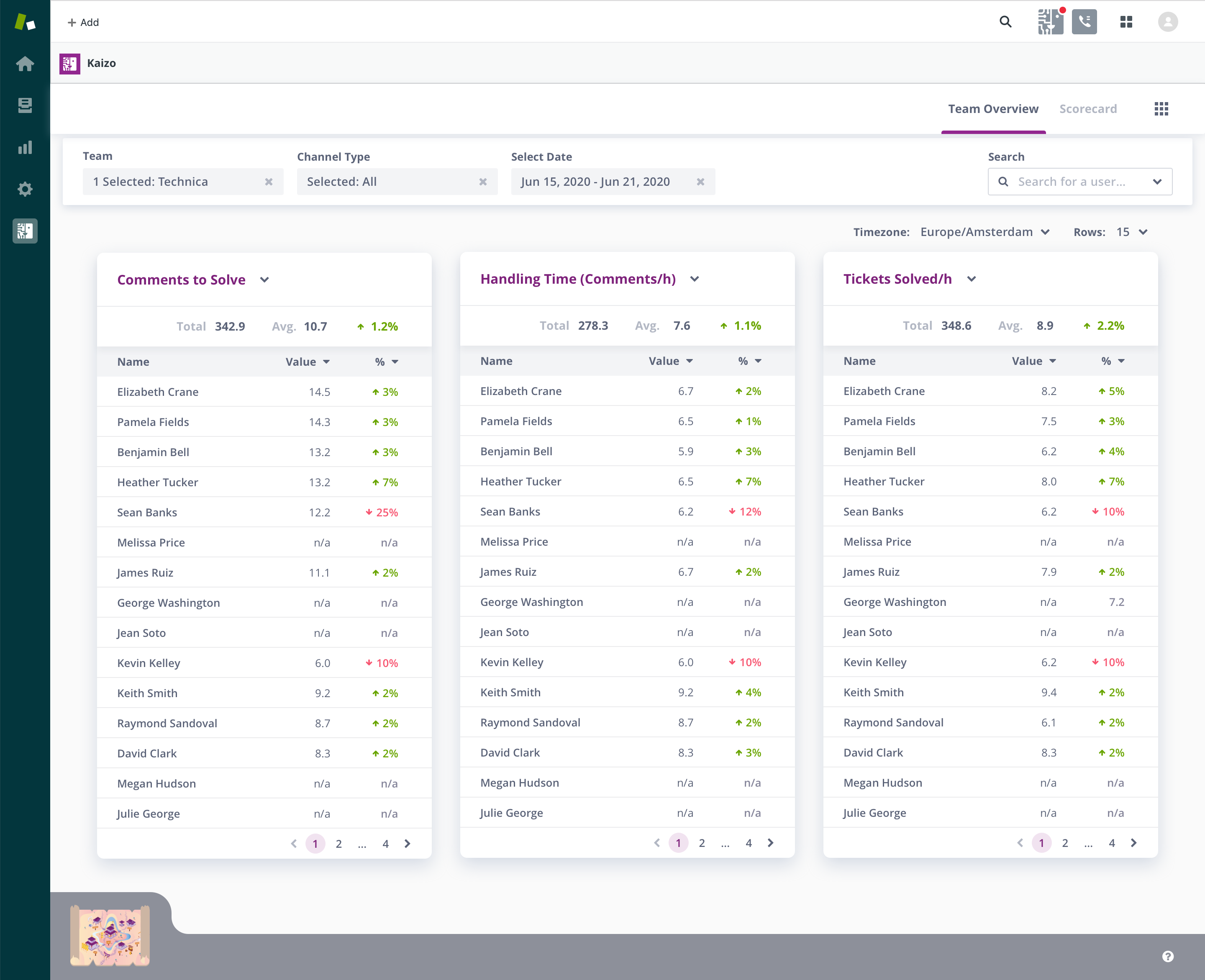 Data export
You can export filtered data for each metric to the spreadsheets.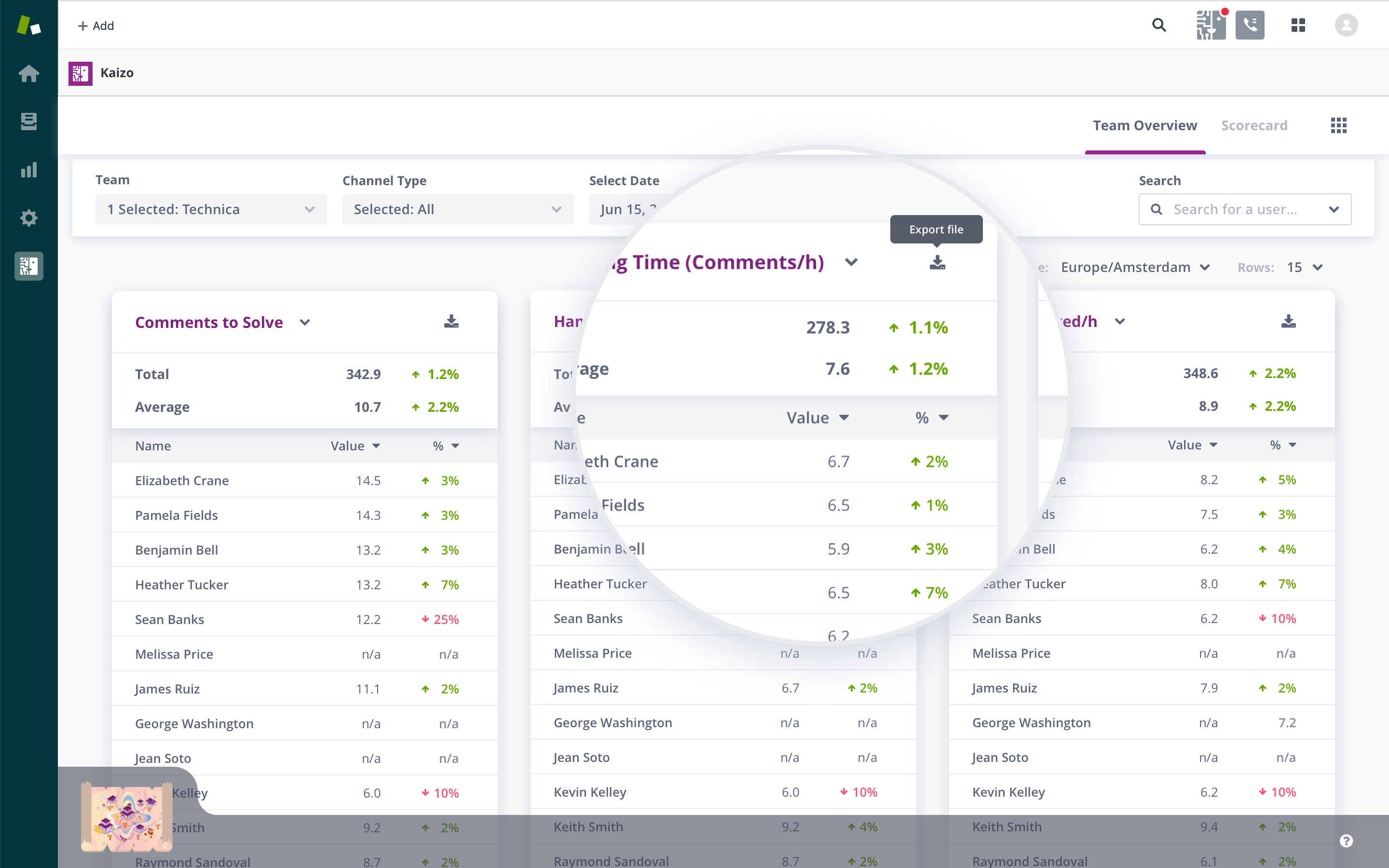 The exported data will be downloaded in a csv file which you can use to share within your company.


For more information on the way metrics get calculated inside Kaizo, please visit this link.