NB: In order for us to track time spent per message you need to have the Time Tracking app installed in Zendesk. Depending on the configuration set, the app can automatically log the total time spent on a ticket or the agents gets a pop-up screen where they need to submit their time spent on the ticket.
What is the time spent per message?
The time spent per message tracks the time spent on each message including ticket updates made by an agent. This metric measures the handling time on each message and action which are linked to the internal or public message created by an agent.
Actions by an agent can include the following events: status updates, messages, updating of tags, creating events, changing events, etc. A full list of events that can be performed by an agent can be found here.
(Please note: The list includes all events that can be completed by both the agent and automation. When calculating this metric we only consider events completed by an agent. Any rules, automation, or notifications are not considered as an event by the agent)
How do we measure it?
When an agent takes action on a ticket and clicks submit, the Zendesk Time tracking app allows the agent to submit time duration of the time spent or automatically logs the time spent on the ticket.
The time information which is produced for each update on tickets in Zendesk after the agent submitted is filtered by selecting only those time spent values for updates which include an Internal Note or Public Reply by the agent.
So, If an agent comment is found as a part of a ticket update, we then use the time spent value available for that update and calculate the time spent per message.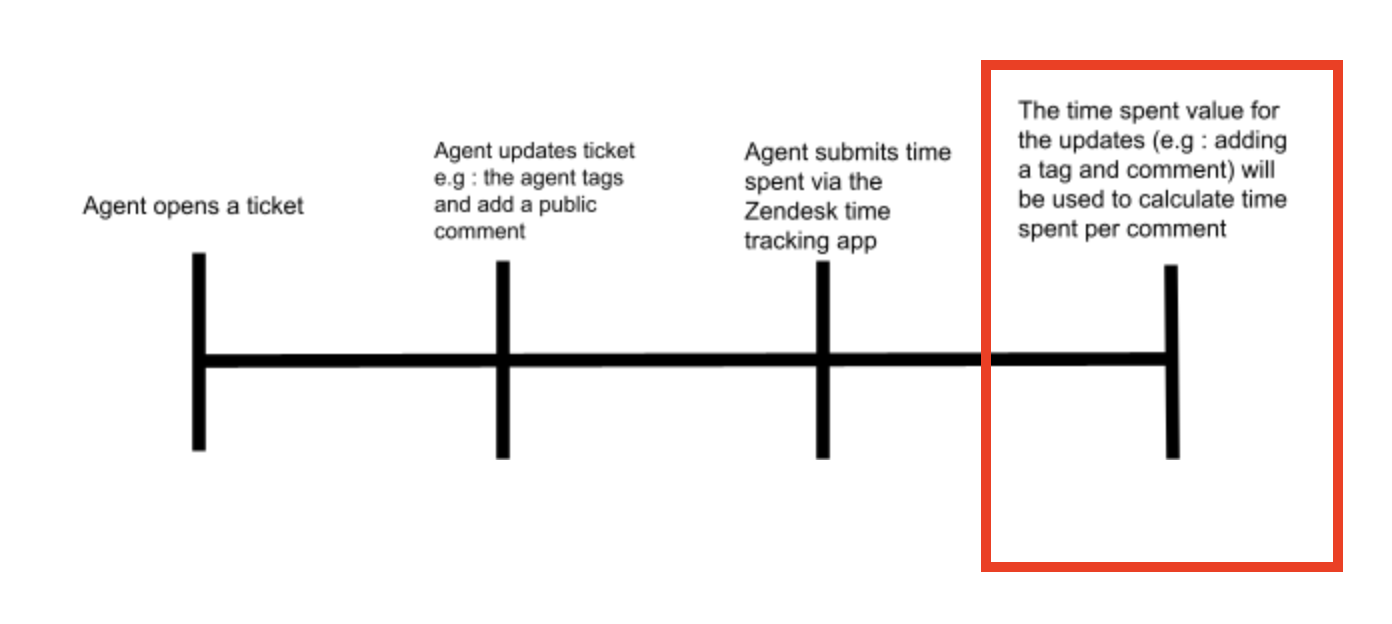 What does this mean?
After every comment event(one or more changes made by the agent as a part of a single update that includes a comment), the Time spent per message will be calculated and will be visible in the team scorecard and agent scorecard.
Team Scorecard :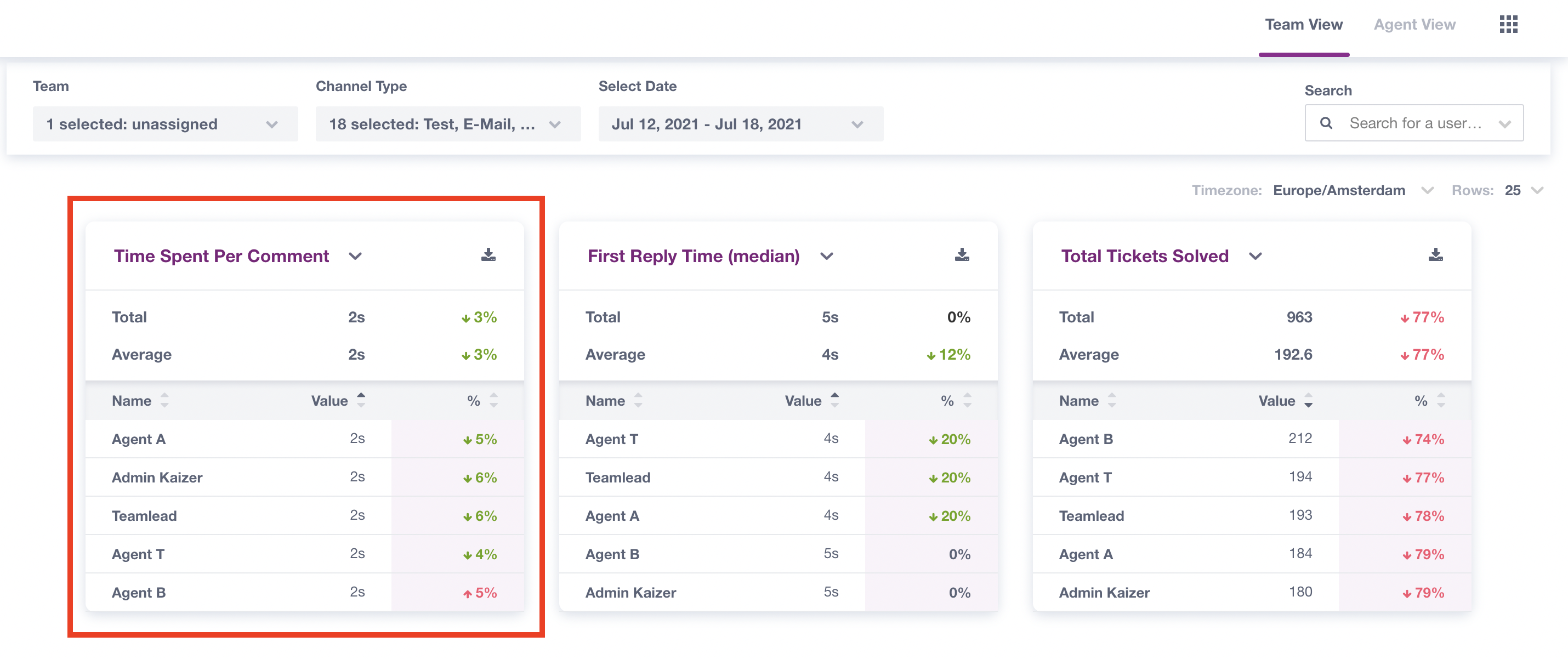 Agent Scorecard :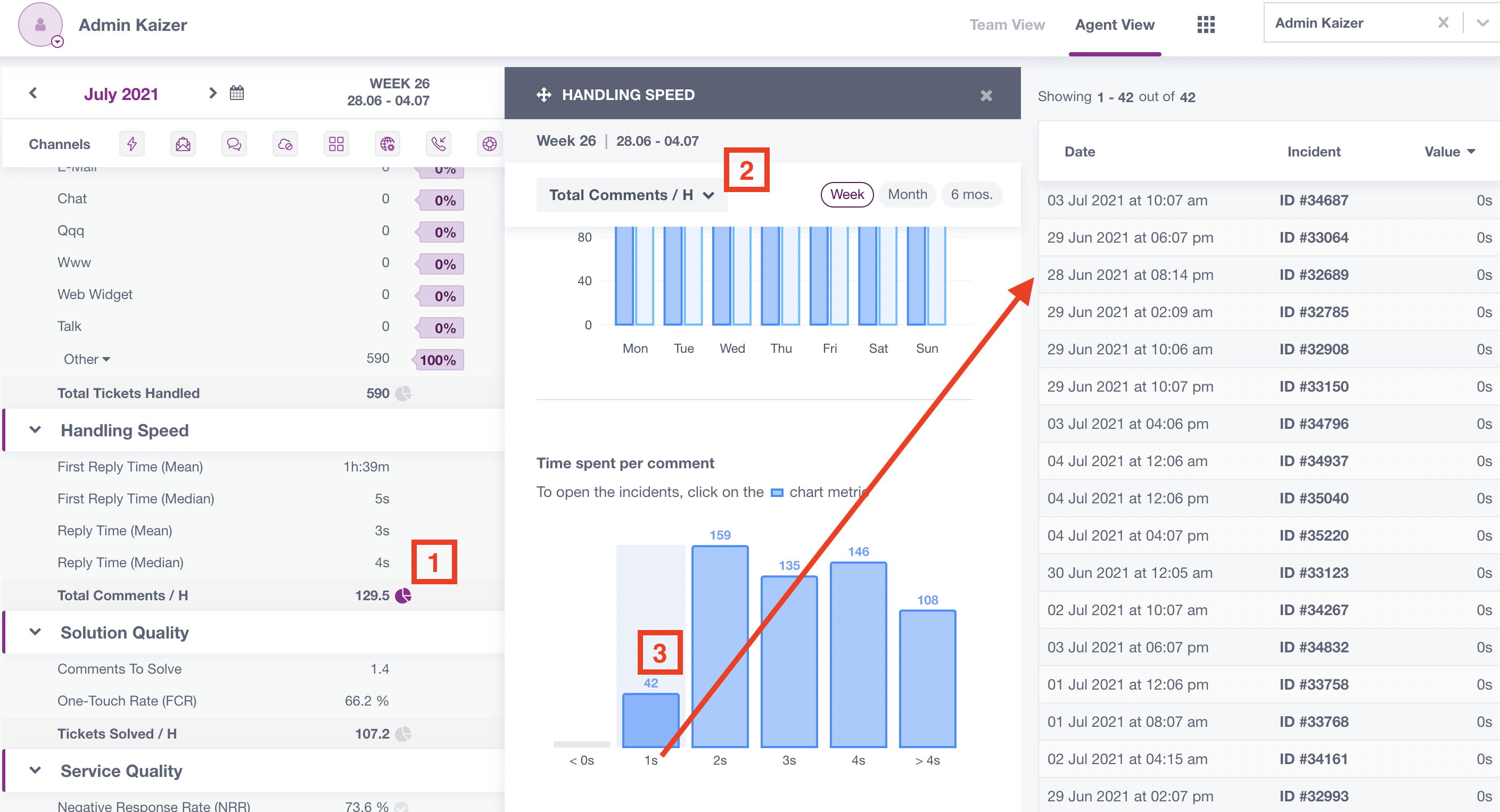 Pro-tip:
Using this metric, you will be able to track the time your support team spends on every comment on a Zendesk ticket.
This will give you as a Team Lead deeper insights into how long an agent takes to complete a comment. The data obtained from this analysis could help identify the type of requests which takes the longest to resolve.
Time spent messages could help identify opportunities for process improvements or in the case of less complicated requests, help identify opportunities to implement automated responses.
Time spent per message also creates coachable moments between Team Leads and agents. e.g.: If a Team Lead notices a huge difference in time spent per message for an agent compared to the rest of the team, this creates an opportunity too deep dive into the requests to understand the reasons why and come up with actionable tasks to try and improve.