This article will help you with the first steps of a QA setup for your Customer Support heroes!
1. Set the number of conversations to be rated
Let's start by deciding how many conversations you would like to be rated every week.
When you set the value up, Kaizo will automatically provide random tickets that have been handled/solved by the agent that week in your Scorecard.
Steps to do that:
Open "Settings" in the top right corner of your Village
Select QA Template and scroll all the way down until you see this part:

You can choose what type of tickets you want to see on your Scorecard:
Solved and handled conversations: This means that all of the tickets where an agent left a comment (whether it's Internal or External) will be shown in the Scorecard to be rated
Solved conversations: Only tickets that have been solved by this agent will be shown in the Scorecard. (Note: it might be that the agent did not give any reply to the customer in the ticket, just only solved it/merged into another one — but it still will be shown in the Scorecard so you can rate it)
Another step for your QA setup will be detecting how many conversations you would like to rate weekly. You have 2 ways to do that:
Either set up a number of tickets to rate
Or the percentage of all solved/handled conversations. For example, your agent solved 100 tickets the previous week and you set up to have at least 10% of tickets solved to rate — this will give the total number of 10 random tickets to rate in Scorecard.
Pro-Tip: Try setting up realistic numbers of tickets that you would like to rate per week. Do not try rating all of the tickets that your agent worked on as it is better to provide very detailed and focused feedback rather than just the rating.
Pro-Tip x2: Try to rate enough tickets to see the actual agent's performance. For example, if your agent solved 100 tickets during the previous week but you rated only 1 — it will not give you a good understanding of the agent's performance (that ticket could be very good or very bad which means you will be not objective with your rating). We suggest rating 5%-10% of all tickets that have been handled by your agents. This will ensure objective feedback and a realistic QA rate.
2. QA Template setup
The next very important step for us is to define "What are we going to rate our agents on?". To help you with that, we have created a Template that can be fully customised by you!
Templates can be created per channel, per team, role, or per overall case handling. Depending on how the teams are organized, you can define the best QA setup. For each ticket to be rated, QA experts will be able to select the best template to use.

The "Quality And Correctness" template is our sample template. Feel free to tweak it and rename it! You can also add templates by clicking the "+" sign.
At the moment, it is not possible to delete templates and saved categories. This is to avoid complications with tickets that have already been rated, etc. However, if you need to delete anything, we can help you with this! Simply drop us a message at support@kaizo.com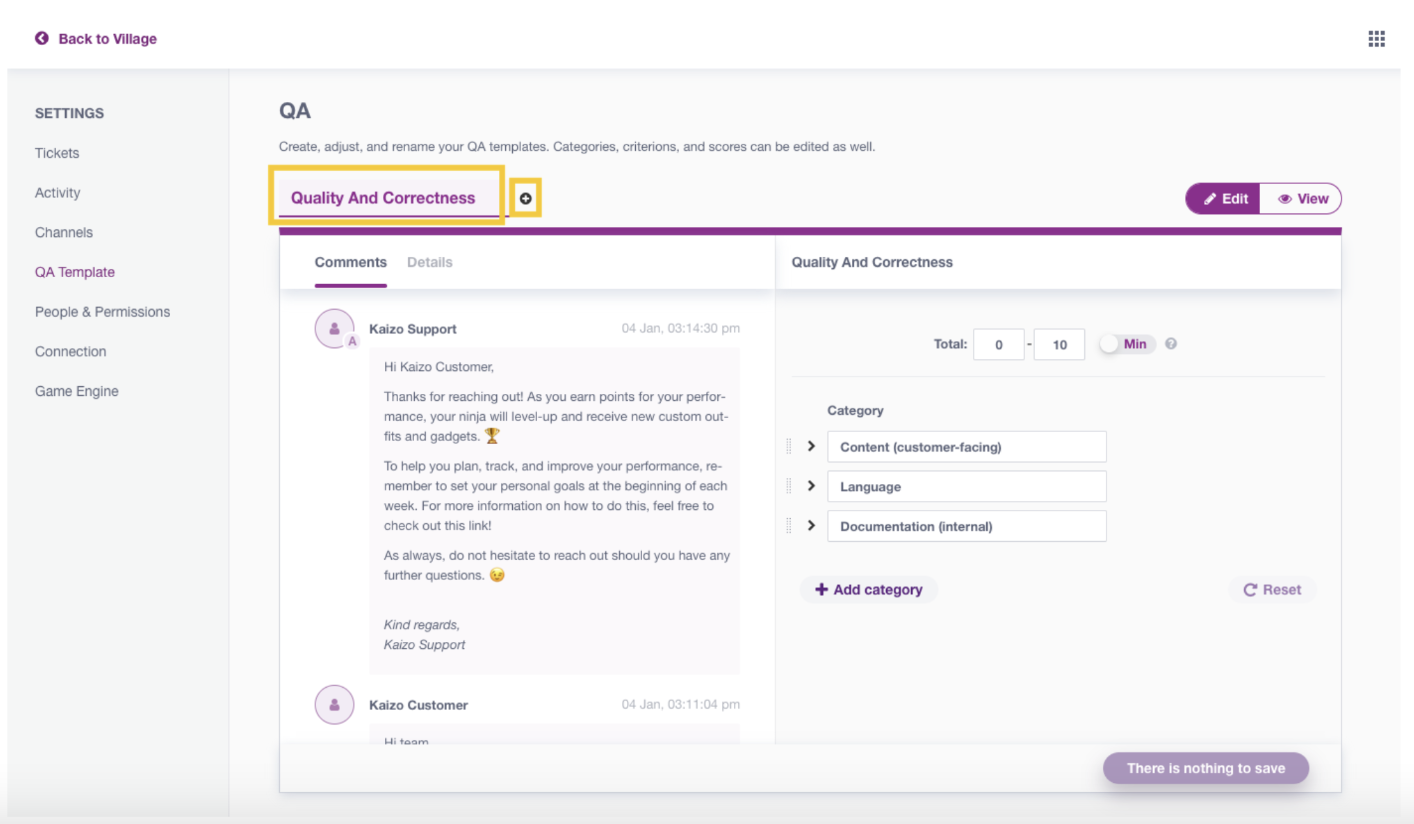 3) Define total points
For each template, the starting value and a total number of points an agent can score per ticket need to be defined with the help of the Min/Max toggle. Check out the example below: 0 - 10.
If Min is toggled, the starting value will be zero, which means scores will add up to 10
If Max is toggled, the starting value will be 10, and negative scores will have to be added so that points can be deducted until it reaches 0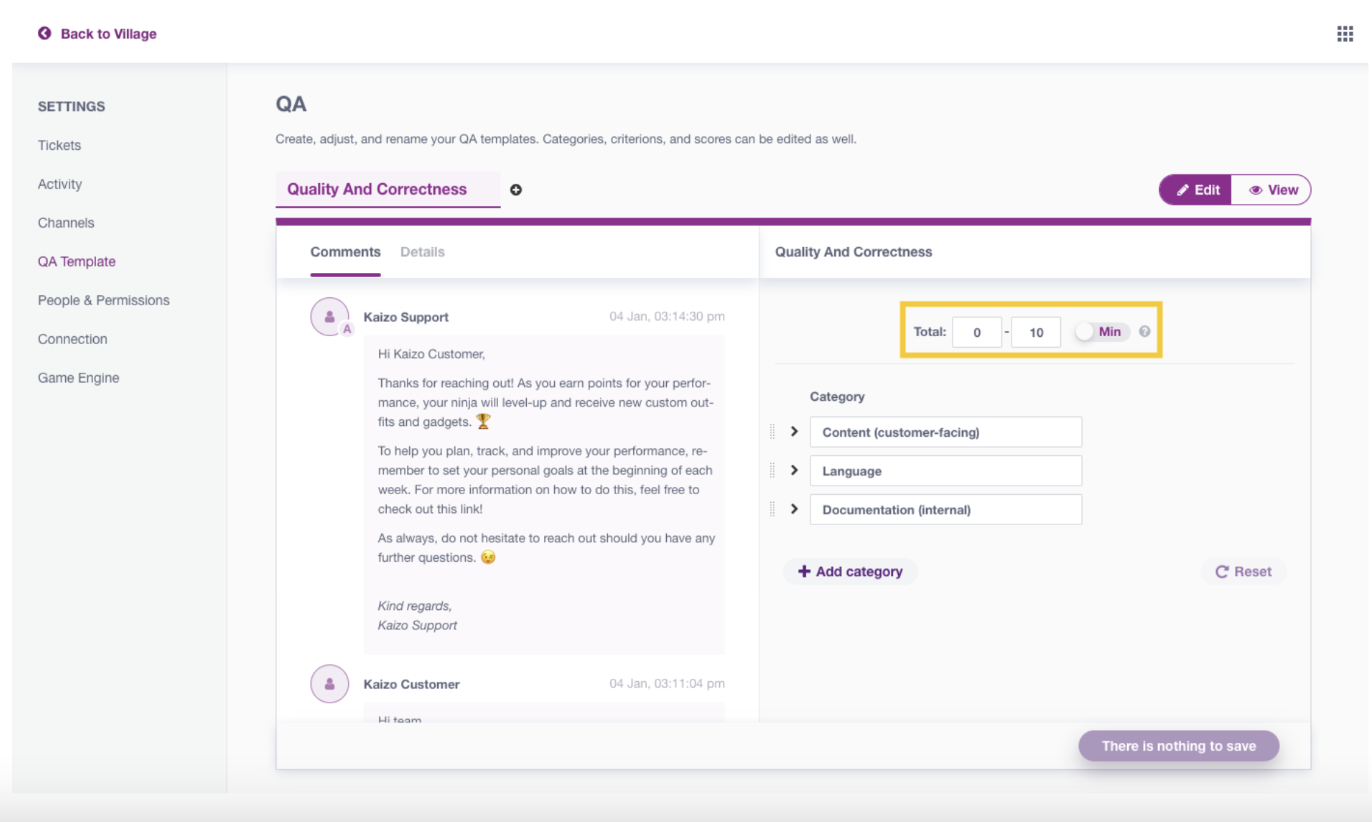 4) Add categories and criterions
Each category can have a maximum number of points and multiple criterions, each with different scores. As mentioned above, if Max is toggled, the starting value will be 10, and negative scores (i.e. -1) will have to be input so that points can be deducted until the number reaches 0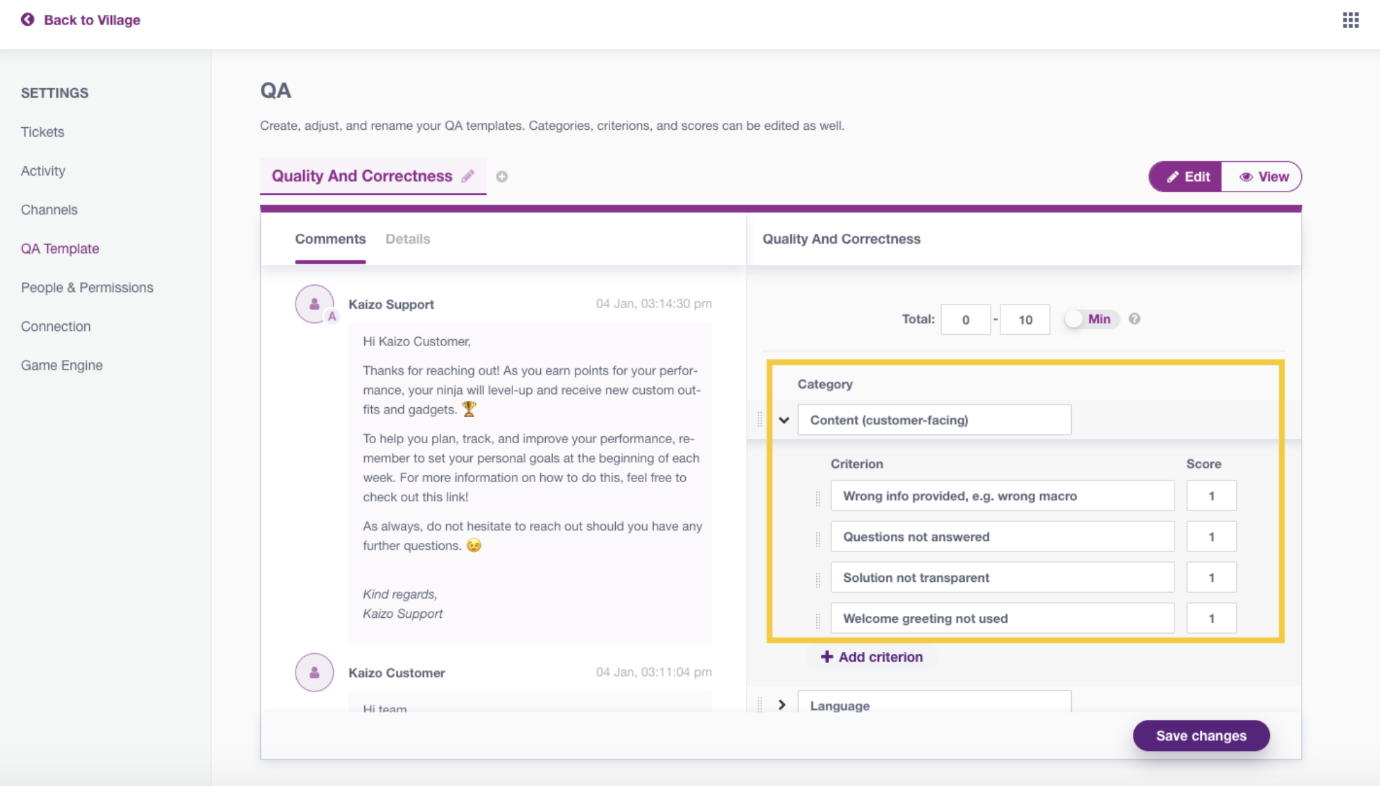 5) Preview your template and save your changes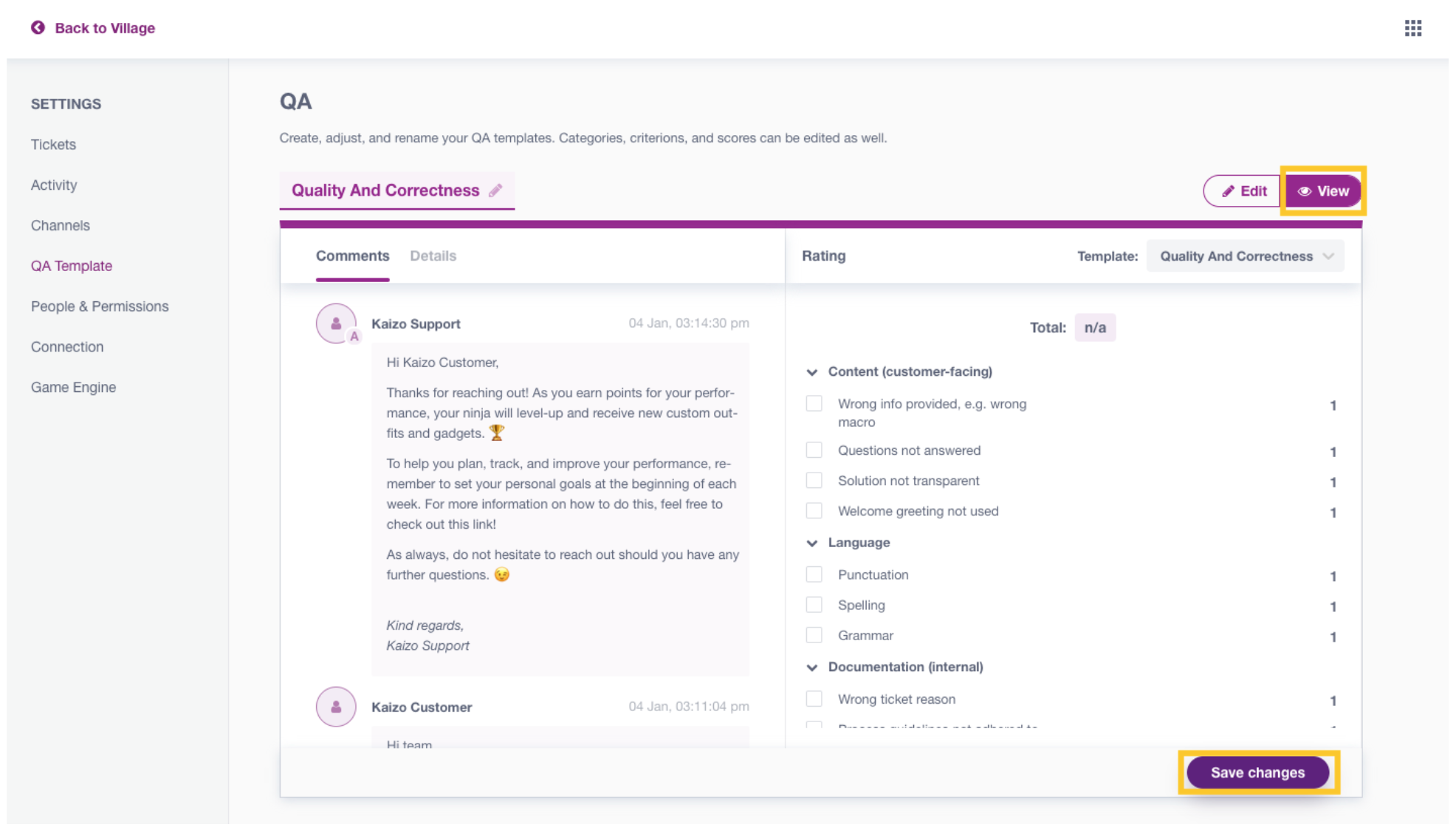 6) Rate tickets using the new template in any agent's scorecard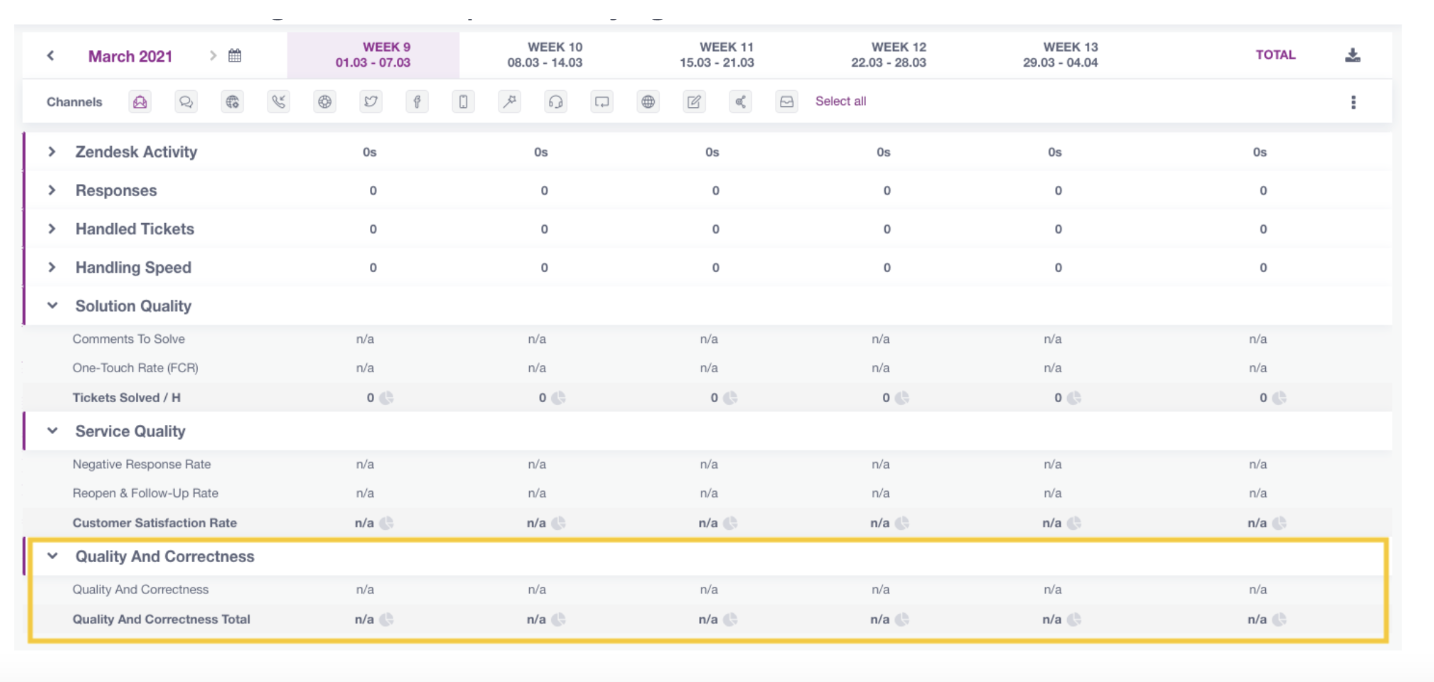 If you are unsure how to correctly define the right QA template for your team, take a look at "What is the best QA template for my team?"
For more help, you can also schedule a call with our specialist, or simply drop us any question via email: support@kaizo.com