This article will explain the use of QA within Kaizo and the importance of setting Quality Assurance criteria for your team.
1. How can QA build perfect Customer Support?
Quality assurance is a crucial component of delivering top-notch customer service. It's the practice of making sure that every product or service meets or exceeds a certain standard of quality.
As has become increasingly evident in the past few years, customers are less willing to accept anything less than perfection. The average consumer will shop around until they find the best product, even if it means paying a little more for it. They deserve nothing less, and your company or business should be held to the same standard.
To make sure you're providing beyond-expectation quality, you need a plan or scorecard to follow every time you encounter a customer. This could be as simple as a checklist that you use when you're on the phone with them—for example, you might have a question on the sheet that asks whether your customer was greeted kindly and promptly by an employee, and if not, precisely what the problem was.
Kaizo offers a solution that will not only help agents understand and detect opportunities when it comes to the Quality of communication but will also save a lot of time for the Team Leads who now have an opportunity to provide real-time feedback — all in one place!
2. QA advantages with Kaizo
Provide real-time feedback to your agents and improve service quality with the Kaizo Quality Assurance solution. QA scores can be viewed for each agent in their QA House.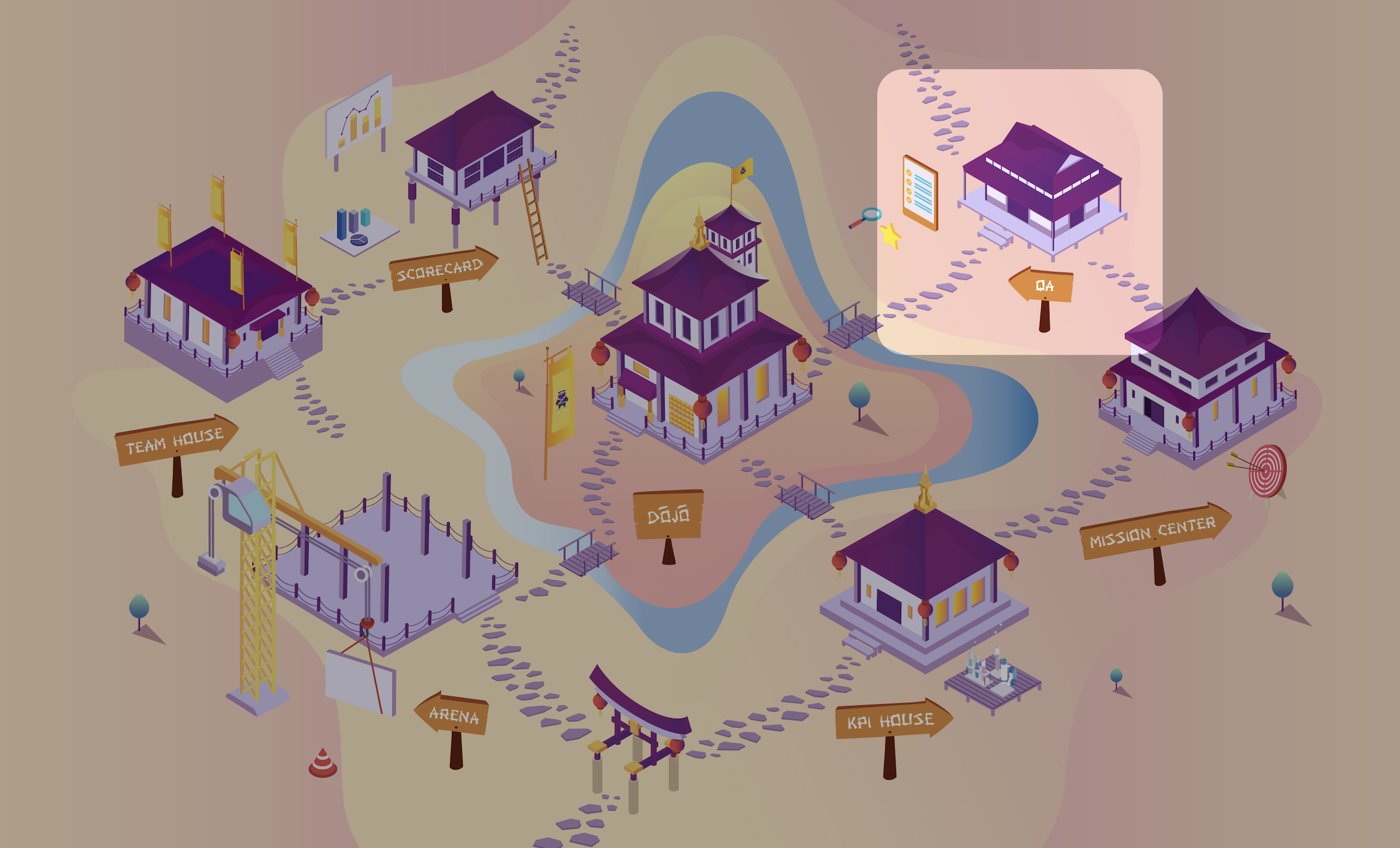 Benefits of QA with Kaizo:
No more spreadsheets

Real-time feedback to your agents

Real-time data vs deferred data

Everything is done in one place

More reviews are done within one unifying platform
The QA scorecard is where your QA rating categories and criteria are stored.
But first, you need to ensure all the relevant team members have the QA Admin role, which includes permission to edit QA scorecards (see image below). Note that Admins and Account Owners already have this permission.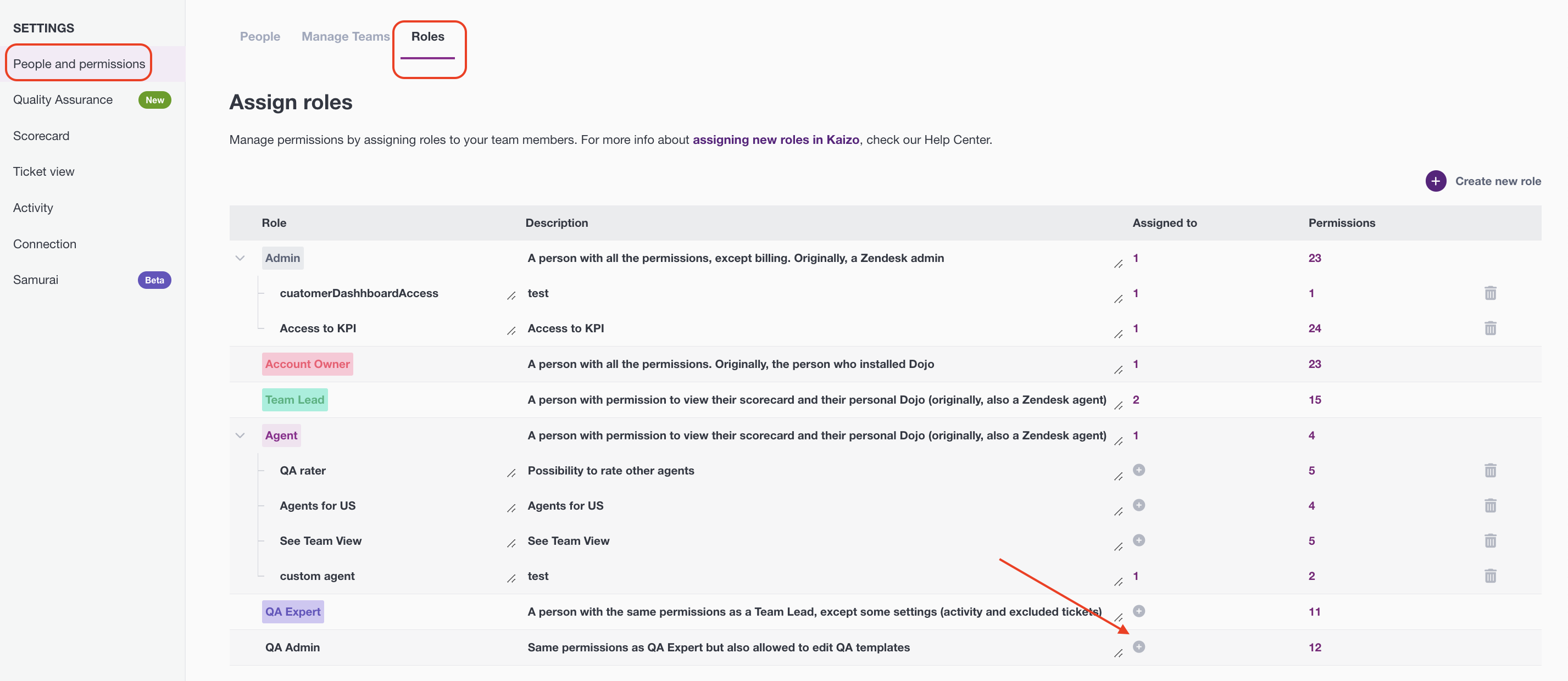 Learn more about how to set up Roles for your team by visiting this link.
3. Benefits of set QA depending on the Role
There are lots of advantages of the set Quality Assurance standards for everyone on your team.
Agents: After receiving feedback on Quality from their Team Leaders or QA Experts, agents have an opportunity to see mistakes that were made during their interaction with the customer. Real-time feedback will help spot mistakes right away AND motivate and recognize the agent for their achievements. The sandwich feedback method (positive feedback - opportunity points - positive feedback) will keep team motivation on top and ensure constant improvement within the team.
Team Leads: QA ratings will help this group to prepare for 1:1 Sessions with their agents and set the points of the discussion for the meeting. Completed QA rating highlights the mistakes done, Team Lead efficiently spots the mistakes and can action on those right away by coaching the agent and preventing it from happening again.
Admins: As a rule, this group doesn't give direct feedback on Quality Assurance. But Admins have an opportunity to look at the general team performance on QA, determine the most common mistakes made, and implement the necessary changes in procedures or organize group coaching sessions to prevent future mistakes.
QA Team: The Quality Assurance process is crucial for the QA department of your company. By having access to real-time QA results, being able to rate random tickets, and always being informed on the common mistakes of the team the QA team has the power to analyze and potentially change criteria/procedures within the company.
You can see why Quality Assurance is crucial for everyone in the Customer Support area. By constantly communicating, monitoring, and analyzing Customer support heroes' communication with customers, you have an opportunity to get insights not only on agents' skills and knowledge gaps but also take a step back and look from the side at how well your company is being represented by your team!
Let's ensure great Customer Support together!