When talking to your Agent in your 1:1 Meetings, it is important to provide feedback about their work.
Proper feedback will help your Agents:
Become aware of the mistakes made
Understand opportunity points
Set the plan in order to improve
Notice the things done well
Get motivation and carry on doing great work!

What is constructive feedback?
Constructive feedback is this type of review you give on your Agent's performance. It should be neither fully positive, not completely negative — it has to be objective.
The feedback cannot always be positive — Agents won't learn much from it if they think that all the work they do is amazing! (Tip: no one is perfect!)
But there is nothing good in fully negative feedback either — getting continuously criticised is demotivating!
So how should I provide feedback to my Agents?
Have you ever heard of the Sandwich Feedback Technique?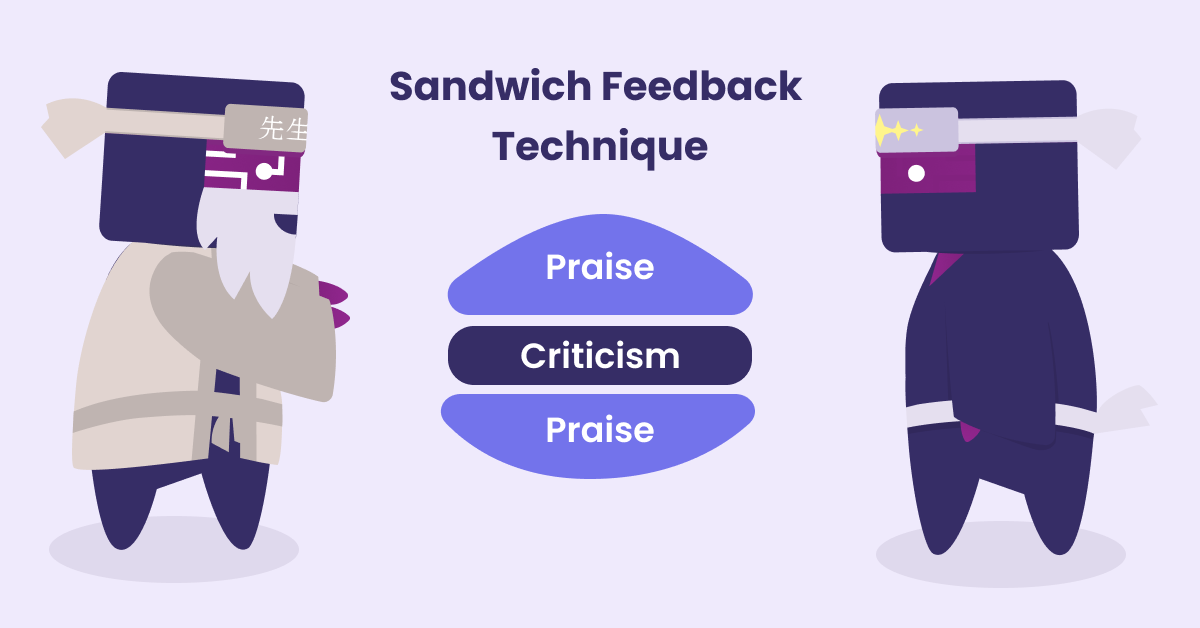 To provide constructive feedback to your Agents you need to follow these steps:
Start your feedback with something positive! Make sure that you acknowledge the Agent's great work, new skills and knowledge that they gained, goals that they achieved and things that they surprised you with.
Continue the feedback by mentioning some opportunity points that you still notice in the Agent's performance, new mistakes that you found and knowledge gaps that the Agent might have. This is your chance to make them aware of what should be worked on!
Note: Don't criticise, but instead explain, don't make Agent feel bad — instead ensure that you will be by they side to always provide support!
Finish your conversation on positive note! Inspire the Agent and make sure to thank them for the hard work!
These steps should help you give a good, constructive feedback to your Agent and ensure that they feel motivated and supported after your session!
How to become an expert in constructive feedback?
It's not that easy to provide constructive feedback sometimes — we get frustrated with the recurring mistakes made by Agents, we get impatient for the results and we like to assume what happened instead of asking around about it.
There are a few points that you should always keep in mind when talking to the Agent:
Be positive — even if you're having a bad day, it is not the Agent's fault. Leave all your worries behind and make sure that you are there for your Agent — they might be having a bad day as well! Come in with a smile, don't be afraid to joke around with the Agent — your mood might make a difference!
Trust your Agent — it is important to establish trust between you and your colleagues. They should feel comfortable coming to you with their issues and you should trust them when any issue is brought up.
Make sure that you meet face-to-face — it is always easier to send a quick message to the Agent or connect to the call with your camera off, but imagine yourself in the Agent's shoes — you might feel lonely and not supported from time to time. 1:1 Meetings with your Agents might help them feel that you are always there for them.
Listen — Make sure that you always listen to the Agent's point of view, especially when it comes to the mistakes made. Normally, we assume what happened, but the reality tends to be absolutely different — that's why it's important to listen to your Agents. They might have more insights than you on some questions!
Be consistent — you need to make sure that you are always in contact with your Agents and give them enough time during your week. Consistency will show Agents that you are an important part of their everyday work-life and that you are always happy to give them your valuable time.
Now you should know how to provide relevant constructive feedback to your Agents for them to improve productivity!
If you are interested in finding out how Kaizo tools might help you on this journey, visit this link!